A Woman of Influence: SVP & CoC Member Monica Bragg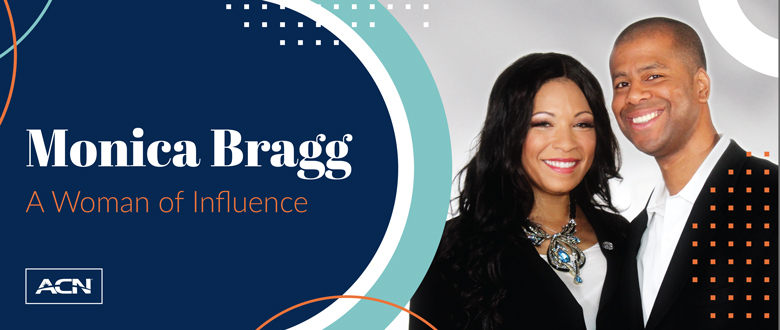 A Woman of Influence
SVP & CoC Member Monica Bragg
At ACN, every month is a good month to celebrate women. In May we're continuing the momentum of Women's History Month by honoring more women IBOs and telling their stories of empowerment.
Monica Bragg didn't have time for much when she was introduced to ACN. She was in her third year of law school and was recently divorced with two kids -- that's enough to overload and overwhelm anyone. However, it wasn't in Monica's spirit to be unfocused or overwhelmed. She has an acute understanding of people and situations, with an innate ability to multitask, divide and conquer. Those traits are an expression of her upbringing. Growing up, Monica didn't acknowledge gender barriers and was raised to express her mind and be a woman of influence.

"I was raised by a divorced mom with no marketable skills who was brought up to be a wife, not a provider," Monica says. "But I was also blessed to be raised a feminist. As a kid, I was always striving to be the best basketball player or best swimmer or student. I always tried not to see myself as different or that I couldn't do what the boys could.  However, you are never more aware of who you are then when you're in a room full of people who are not the same."

This insight carried over into her career. 
After graduating from law school and working in law offices, she realized the limitations of her career path and how much time she would be away from her children. Monica understood that she needed to reassess how she would earn a living. 
"When I was in law school, the demographics were so predominantly male, and interning in law firms, it was clear to see where the ceiling stopped for me," she says. "There were no partners who were like me. There were associates like me. There are ceilings in most places in corporate America. At the same time seeing that and feeling that, I also knew the time I would have to spend away from my kids." 
Monica made a choice. Leveraging a deepset and inspired work ethic and following her vision for her family's future, she made a strategic decision and pushed herself to create a secondary income and pursue a path with ACN. 
She started as an ACN customer and soon saw the value of promoting the services that make up the ACN portfolio. 
"I was super busy and started using ACN's services first because it made sense to me," she says. "Eight months later, I pursued ACN full time. The day I graduated from law school was also the day I retired as a lawyer. I still use law to help people. I envisioned a life of helping people. Now I'm able to do it on my own time. With ACN, advancement is unlimited. They don't care if you are a woman or man, black, white, Indian or Mexican; all you have to do is put in the work. ACN is empowering to everyone, not just women. I came in with a law school education, and my husband came in with a high school diploma. ACN leveled the playing field and gave him and I the same platform to win." 
What Monica gained when she pursued ACN full time was time with her family and the peace of mind that her advancement with ACN was based on her efforts. Through some very hard work, Monica was able to build a thriving business, gain quality time with her kids and reap the benefits of residual income.

"It's important that you come as you are to ACN," Monica says. "With ACN, I had the best of both worlds. It allowed me to be home and raise my kids. My kids today are 23, 18 and we're in the process of adopting two 7-year-old twins. Our kids have traveled all over the world and have had more experiences than most kids. The drawback for a lot of moms is they think if they make a sacrifice building a business it will be detrimental to their kids. That doesn't happen at ACN. This is empowering to moms. You can have a dream and vision here and there are no prerequisites for success."*
*Refer to the ACN Compensation Plan for complete details. Earnings as an ACN IBO are based solely upon the successful sale of products to customers and their usage of those products. Individuals will incur expenses in operating their ACN business, such as the sign-up and monthly business support fees, as well as other possible operating expenses. As with any business, earnings and success at ACN are not guaranteed but depend primarily on the individual's persistence, effort, and results of acquiring customers personally and/or through their team. Individuals will not earn income and will lose money as an IBO if customers are not acquired. IBOs must refer to and comply with all Terms & Conditions as stated on the product pages on the IBO's ACN Personal Webpage.
---
Share this:
---
---