Chanelle Burt Fights for Her Family and Shows Women How To Be Significant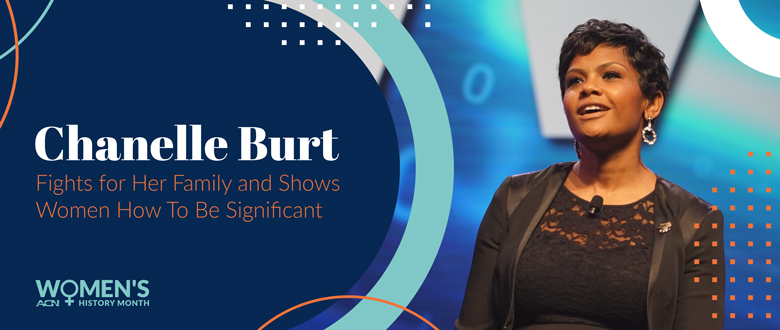 March is Women's History month and all month long we're profiling influential women in ACN who have made a meaningful impact in people's lives. 
Former electrical engineer, Chanelle Burt, has been a powerful trainer on stage, a strong and compassionate leader to her team, and is an example to women everywhere that they can be successful entrepreneurs in ACN and also have time to be excellent mothers and spouses. 
"A woman's superpower is being able to do a lot of things at one time." Chanelle says. "I'm all about helping more women rise through the ranks in our company because we can do it. ACN is the most equal opportunity business I have ever seen. It doesn't matter where you come from, what your race is, your gender or your background."
Chanelle was introduced to ACN while working in Texas for Lockeed Martin. She was married, pregnant with her first child, going to school and working part time at a retail store. When she started ACN, she started quickly, but after her daughter was born, she slowed down in the business for a bit.  She kept going, although it was slow, with SVP in mind because after attending her first ACN convention in Ft. Worth, everything changed for her.

"I was blown away," she says. "I saw the possibilities and I said to myself that I was going to be on that stage one day and become a Senior Vice President and Circle of Champions member."
Chanelle had a breakthrough at an ACN event that changed her life. What is waiting for you in Charlotte this May? Register today at ACNreg.com. 
Setting goals can be a turning point and path toward a renewed focus and new perspective. In many cases, they're a trigger for change. ACN events are powerful and breakthroughs can happen at any moment. Chanelle's world changed at the next event she attended when she heard Larry Raskin say on stage, "Until the pain of staying the same becomes greater than the pain of change, then you will never change."
"When I heard that, I broke down crying," Chanelle says. "That was the deciding factor. I was going to do what was best for my family. That convention actually changed the course of my entire life. I moved back home to Maryland from Texas and soon after got divorced."

Chanelle had the courage to follow her heart. She pursued ACN whole-heartedly and a few years later married her ACN mentor, Aaron Burt. For the last 12 years, Chanelle has been working ACN full time, reaching SVP on her own in a separate business from Aaron. 
"I've been divorced, remarried, and had four pregnancies in my journey with this company. My kids are 12, 8, 6 and 2.  I even built a closer relationship with God while growing professionally in ACN. It's been a complete blessing for my entire family."

That blessing extends to her mother, a self-employed cosmetologist with no retirement who was taking care of Chanelle's grandmother who had Alzheimers. 
"I knew I had to figure out a way to take care of my mom one day," Chanelle says. "When my grandmother closed her eyes, I wanted my mom to do whatever she wanted. Every residual check I earn, I give my mom money so she has the option to work because she wants to, not because she HAS to. There's a difference ." 
Through ACN, Chanelle realized her potential and she's become a significant and charismatic leader. She believes that ACN is a path for women to discover their true significance, while finding balance, and taking care of themselves in the process. Every Wednesday, on her #WomenWinningWednesday calls, she recognizes women who have been in the trenches and have earned RD and above, allowing them to have a voice, train and share their story. Hundreds of women from all over the world dial in to the call every week, and, now, so do men.  
"The calls have always been for everyone," she says. " They are led by women, but not just FOR women. Everyone in attendance can apply the information to advance their businesses, however, the goal is to Encourage, Empower and Equip more and more women to achieve the Regional and Senior Vice President positions in this opportunity."  
During the month of March, she is also hosting #WomenWinningWednesday PBRs, solely for female prospects.  "If we can host PBRs solely for millenials, real estate agents, business owners, etc., why not solely for women during Women's History Month?!"
"A lot of women don't take care of themselves because they don't have the time and/or money to do it." Chanelle says. "I can relate to wanting to be a great mom and leading by example in business. And I know women can do it all. When I began ACN, there weren't a lot of women on the stage. I wanted to use SVP as a platform to help more women believe in themselves. This is why I created the Women Winning Wednesday call. If you have earned RD, then you know something, you've been in the trenches with your team. You know how to build ACN and how to fight for your family. Being significant is defined by how many other people you can help with this opportunity. We're not done until we're all done, as my husband always says. With the ACN rebirth, I'm excited to see more women LevelUP and take ownership and become significant, not just successful." 
---
Share this:
---
---