A New Chapter: Melissa Street Finds a Network of Belief Through ACN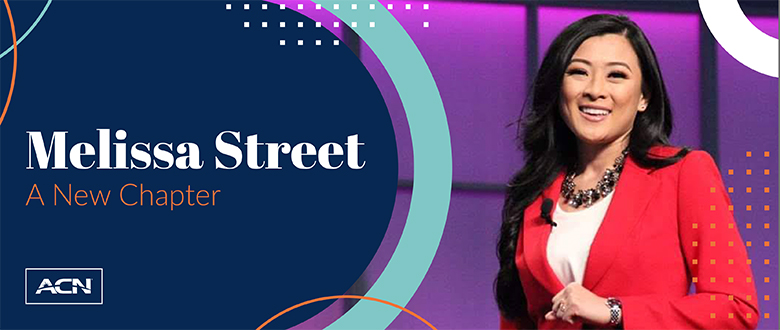 A New Chapter
Melissa Street Finds a Network of Belief Through ACN
At ACN, every month is a good month to celebrate women. In April we're continuing the momentum of Women's History Month by honoring more women IBOs and telling their stories of empowerment.
Born and raised in Los Angeles, California, Melissa Street worked as an insurance sales agent for four years before she met her future husband, Jeff Street, at an ACN presentation. That day was a turning point for her personally and professionally. Melissa's new life included an opportunity that would enhance her mindset, empower her to face her challenges and overcome barriers, all while inspiring her team to follow her lead.

"I worked a traditional job," says Melissa, who is not the first 9-to-5 employee by far to embrace the ACN opportunity. "What captured my attention with ACN was the possibility of making residual income. I built the business part time for two years until I was able to leave the insurance business and pursue ACN full time."


How did Melissa get the results she was looking for from ACN? By putting in the work and building a responsive, highly motivated and accountable team. What caught her attention immediately was that ACN was unique and gave every Independent Business Owner the same opportunity to succeed based on their work ethic and willingness to help others realize their potential.
"I am a minority from Southeast Asia, and one of my biggest takeaways from my first training event was noticing all the different walks of life involved in the business," she says. "I saw ACN as an equal playing field for anyone. Whatever your race, gender or background, you can create a name for yourself in this business. It doesn't matter what your background is -- a computer promotes you. You get to create your own story here and your work ethic is put to the test." 

Melissa was intrigued by the ACN opportunity and the idea of leveraging the power of a team to duplicate her efforts and build a sustainable and thriving business. But it was her first international event that affirmed her belief in the business.

"At my first ACN international convention, I saw Chanelle Burt and Debbie Davis and all of these women on stage and I thought, 'This is incredible!'" she says. "I felt like I could be up there without anyone dictating whether I could. Seeing role models up there and the female leadership -- I thought I could do that too. I remember the feeling I had conducting my first training; it was empowering to be a young female entrepreneur on stage. I can't describe that feeling. I remember getting off the stage and so many women came up to me of different backgrounds saying that they hoped one day that they could be like me. I was exactly in their shoes years ago. I thank God there are women who have the courage to overcome adversity and who were an example for me. Now I can be an example for others. You get to create your own identity here."

The ACN event culture opened Melissa's eyes to a new life and a new possibility for her to express her talents and write her own story. While there were barriers that she had to overcome to realize a future at ACN, she grew in confidence and belief in herself each day. Through it all, she embraced the optimism of the ACN culture, surrounded herself with the right people and put herself in the right environment. Today, she is grateful for the freedom that she was able to achieve through ACN as a result of her hard work, and for the opportunity that continues to impact the mindset and potential of individuals willing to put in the work. 
"I come from a male-dominated corporate world and it was so refreshing to write my own story at ACN," she says. "I was raised by a single mom and came from an immigrant family. My mom was my role model, and she came to the U.S. in her early 20s with her life savings, which at that point was just a few hundred dollars in her pocket, and she showed me by example that I could do anything. Some of the biggest barriers people have are their internal voice and mindset. We live in such a negative world. People tell you what you can and cannot do. My barrier when I first started was I kept telling myself the story that I was young and I had never owned a business and I had no credibility. But by plugging into the ACN events, I rewired myself and retrained my mindset. You have to overcome your own personal objections and stop listening to your negative voice, and listen to people who believe in you more than you believe in yourself."

At ACN, Melissa found the support and the network of belief that took her out of her comfort zone, creating an influential leader who thrives on helping others overcome doubt and rewire their perspective. 
---
Share this:
---
---