Nurturing the Leader Within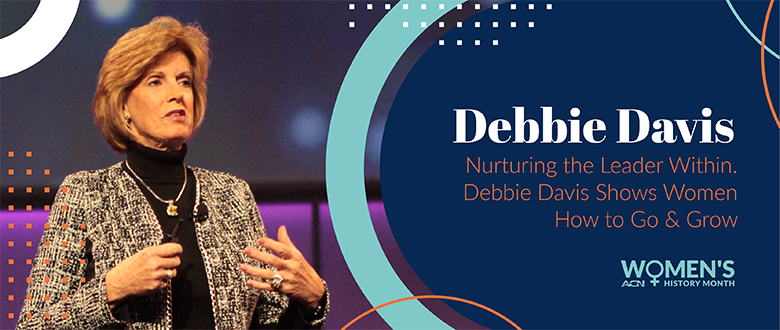 Debbie Davis Shows Women How to Go & Grow

March is Women's History month and we're profiling powerful women who have made ACN what it is today.


Great leaders look back to examine their decisions and identify what they did to rise up to meet their challenges, to explore their mindset and makeup, and to understand the depths of their abundance, talent, vision and grit. Debbie Davis's story is part of the history of leadership at ACN. She's been an IBO with the company since it began. But when she looks back to her days before ACN, she sees someone who had to fail forward and contend with a mindset where obstacles of self-doubt and failure kept her from reaching her potential. 
"I was a housewife and mother of three little ones," Debbie says. "I quit 18 jobs and had four failed network marketing business attempts. In fact, no one ever actually tried to recruit me. I recruited myself all four times, and after failing miserably a fourth time, vowed never to be involved in another.  "

We're thankful for broken promises, because Debbie did try once more … with ACN. Today, she credits her 27-year journey with the company as the platform for her skill set and path as a leader. She was the first woman RVP, one of the first woman SVPs and one of the first woman trainers on stage, and today we are grateful for the impact she has had on the lives of IBOs. Through her example, women can see clearly that ACN is an "equal opportunity opportunity." Debbie explains that ACN is the perfect opportunity for women. 
"Women can do 10 things at a time," she says. "lf you need something done, give it to a woman. Women are doers. We birth children and our innate sense of motherhood makes us great jugglers. There are no excuses for women to feel they can't succeed at ACN. This is something women can absolutely do. In fact, women are great at it.


"This is a business where you need to give people the opportunity and create an environment for them to grow," she continues. "I was not the leadership type of person you would have looked for. That's not how people saw me 27 years ago when I started. They saw me as someone who failed at a ton of things. However, you COULD say that's what leaders do - you keep trying. We all have leadership qualities, but not everyone is willing to work hard enough to change and grow mentally, but that's what it takes.  What keeps them from doing that is fear, doubt and discouragement. A woman has to be willing to overcome all those things." 
Debbie believes leaders are found; however, like herself, she feels that many leaders don't actually see themselves that way until their belief in themselves grows. She explains that the sense of nurturing others to bring out the leader within is a skill that women excel at. Helping people find their voice to pull out that giant from within is necessary in this business, she says, because it can take time to develop into the person you were meant to become.  What's interesting is, Debbie says, is the more you focus on helping others do that, the more you grow yourself.
At the same time, Debbie wants women to know that the qualities that make women great at ACN - courage, vision, perseverance, hard work -  also make great leaders at ACN, regardless of gender, background or education. Success as an IBO depends on the work you put in, she says, and everyone starts in the same place here. 
"Nothing is dependent on my success except my willingness to go and to grow," Debbie says. "You have to do it in that order too. You can't sit around and just read and wait to grow … growing happens in the going. We have to MAKE things happen.  That is literally what it takes. Even when you think you can't, because whatever you think … you're right. So, stand porter at the door of your thoughts and GO!  
We do have a lot of amazing women in ACN. I am truly inspired by so many women in our company and what they go through and what they've grown through. They are tremendous examples."

Debbie is living proof that if you're willing to put in the hard work, you can grow with ACN. And, she sees ACN as her opportunity to show women that this is the path to empowerment, equality and freedom. 
"The one thing that saved me was not thinking that being a woman should make a difference," she says.  "One of the traps that women fall into is the trap of the thought that there has to be something special for women to be successful. This is an opportunity to accept your freedom and to live your freedom and be free. ACN gives us so much. I don't need something more than men because I'm a woman. I have the exact opportunity that they do. That, to me, is the most empowering thing of all as a woman at ACN. Words are inadequate to express my sincere gratitude for this life-changing opportunity for any individual who chooses to really go for it!"
---
Share this:
---
---